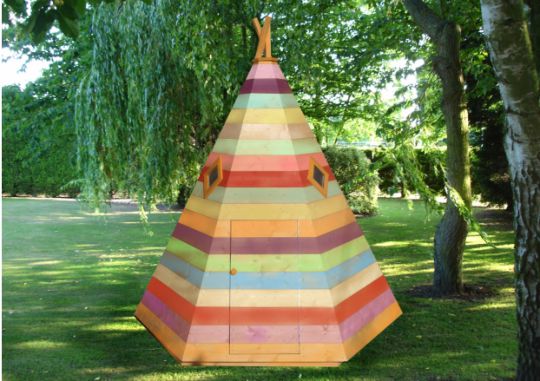 I haven't seen anything like this playhouse before, and I love it! It's a Wigwam Playhouse, but it's wooden rather than fabric. It's also a whopping 7 foot by 7 foot, and it's got £50 off at Asda George online!
The price tag is still a substantial £349, but when you compare the prices of large regular playhouses this is not far off at all, and it's definitely something different. I wish there were some more pictures of it, mainly because I'm just dying to see what it looks like inside as well, but this one picture is all there is online.
This Wigwam Playhouse doesn't come painted in those funky stripes, it's plain wood, but it is pre-treated ready for you to add your own choice of colourful design. That sounds like so much fun!
You can't click and collect this as it's way too big, so you need to take in to account the £8.95 delivery charge. Plus you also need to set aside some time to build it.
This is so different from all the other playhouses I have seen, and I think children will love it - I know I do.