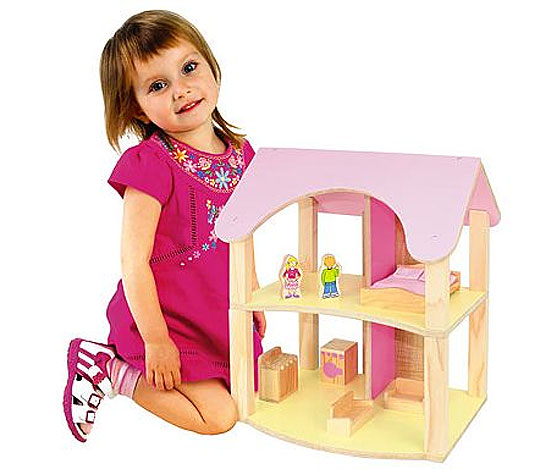 If you haven't got the space for an enormous wooden doll's house then you should take a look at this smaller one that Debenhams currently have on sale - it's full price was £29.99, you can pick it up, now, for £12.48.
We've all written about some wooden doll's houses that, in the dolls' world, could only be described as mansions - they're all well and good if your child has a bedroom, or playroom, that is mansion-like itself, but you'll have been a bit stuck if they don't.
Until now, that is.  I've never been a dolly or doll's house kind of girl, but I actually quite like this little wooden doll's house - I think it's because it's simple, elegant and understated!  There's nothing frilly about it, it's open plan (very modern!), it doesn't have flowers or butterflies printed all over it (although it's proper name is 'Butterfly Doll's House') and it's not GIANT.
The Butterfly Doll's House measures 37.5cm tall, 33cm wide and 22.5cm deep and comes with two dolls, furniture and detailed instructions showing you how to put it together - Debenhams will even deliver it to you for free (in-store collection doesn't seem to be available).
Happy Small Doll's Housing!