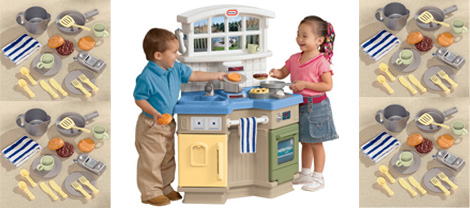 Ooooh! Quick! This Little Tikes Side by Side Kitchen is half price over at Toys R Us - it's normally £99.99 but has been reduced down to £49.99;I do love a good half price deal!
I was going to say 'now your child can unleash their inner Gordon Ramsay with this Little Tikes Side by Side kitchen...' but on reflection that probably wouldn't be such a good thing!
So...how about they release their inner Raymond Blanc instead, he's a much better culinary role model to aspire to.
He's completely self taught you know! Imagine in 20 years time and your child is one of the country's rising cooking stars, the interviewer asks, "What first triggered your passion for cooking?"
"It was when I got a Little Tikes Side by Side kitchen for Christmas when I was four years old," they reply. Well you NEVER know!
It fits neatly into the corner and has an oven, sink, fridge, faux granite countertop and comes with lots of accessories.
It's suitable for wannabe chefs aged three and over, makes realistic electronic kitchen noises too.
Standard delivery, if you don't want to collect your Little Tikes Side by Side kitchen for free, is £4.95.
Thanks to Foodie06 over at HUKD!