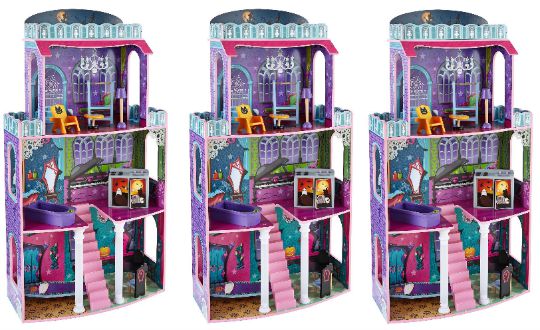 I don't know about you, but I have had tears over Christmas presents a couple of times. It wasn't from the children. I was the one sobbing over whether or not I could afford to give my boys a decent Christmas. No parent wants to see a disappointed face on that special day, so that's why it's vital to plan ahead if money is tight. Get that BIG present out of the way now and save £££'s with this Small Wonders Spooky Suite Wooden Doll's House from Very. It was selling at £100 and is now reduced to just £48. That's a super saving of £56!
The Small Wonders Spooky Suite Wooden Doll's House has piqued my interest as it's got the traditional element from being made of wood. However, it's a modern 'Gothic' themed toy. I am liking that fusion, and it's certainly different from a lot of the sickly sweet pink editions you see in toy stores.
It has three storeys and even has LED light detailing. You also get a ten piece furniture set, a plastic ladder, two glow-in-the-dark corners and 100 glow in the dark stars.
You can pick up your order for FREE from a local participating shop when you opt for Collect+, or pay £3.99 to have it delivered to your front door.