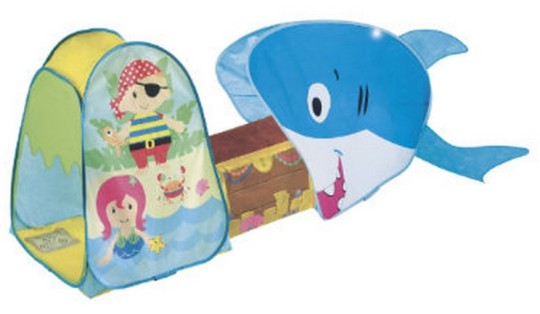 ELC have what I think is an excellent offer on an 'Under the Sea' pop up tent combo where you essentially get two tents and a tunnel for £15, with free click and collect or £2.95 delivery.
We love our pop up tents. They go camping with us in the summer, add a personal touch to your festival tent - and the other kids want to play in it, so your kids tend to stay nearer your own tent!, provide a little shade on the beach and are a visual reminder to your kids of where you're set up too, are perfect for outdoor garden play or indoor rainy day play too. Pop up tents take up so little space when not in use too. They are so versatile and useful, they're a great addition to any garden and at this price, I'm tempted to add (yet another) to our collection!
The Under the Sea Pop Up Tents Combo features three pop up tents- a pirate tent, a treasure tunnel tent and a shark tent- that all join up together to make a bigger adventure course. Great for imaginative play, the three tents can also be played with separately. All three tents can be folded up for easy storage.
Seriously, this looks like a brilliant offer.