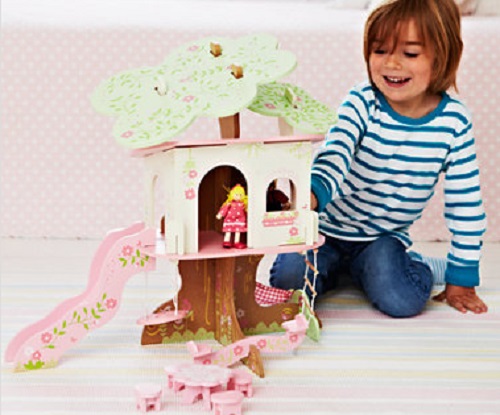 ELC has an offer on the Rosebud Village Wooden Tree House which is for sale at £20, instead of £40 - which is what it currently costs at Debenhams. Home delivery will cost you £2.95, but you can buy online and collect in store for free.
This is such a lovely little playset, I think, and great for bringing the outdoors inside on wet and dreary days like today!
Your child can help the dolls climb the rope ladder, swing on the hoop, play on the seesaw and whizz down the slide. Your child can sit the dolls at the Rosebud Village Tree House picnic table for a tree-house feast, or bring them outside for a woodland picnic.
The Rosebud Tree House set includes a treehouse, seesaw, slide, swing, rope ladder, picnic table, four stools, two dolls and a hammock for relaxing in, so there's plenty to keep your little ones busy, and it's a great price too.