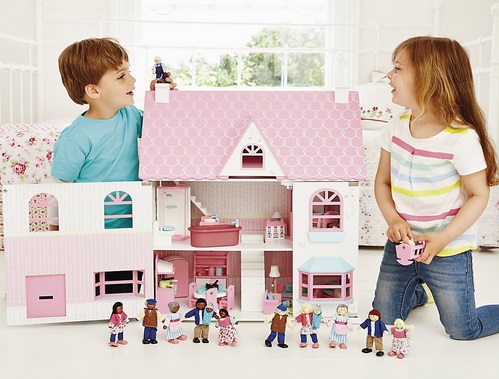 ELC is selling the Rosebud  Country Doll's House for £100 - the normal price, really - but you get to choose two free room sets worth £30. Delivery is £2.95 on this order, and you can click and collect too. REMEMBER TO USE THE MOTHERCARE APP TO TAKE £10 OFF. FIND OUT MORE HERE.
The Rosebud House is a classic wooden dolls' house featuring a gorgeous sparkly roof, and beautiful bay windows making it the perfect home for any Rosebud family to live. The house features three storeys including an attic room at the top, and both the front of the house and the roof open allowing little ones to reach easily inside to help the Rosebud dolls move easily around their pretty home.
Apparently this lovely large how is easy to assemble, and is beautifully made, The furniture and family are generally separately available, but in this offer you can choose two free sets. Just add them to your basket, and they'll automatically come up as free.
This gorgeous house is suitable from 3 years old, and the dimensions are Height 63cm x Width 46cm x Depth 20cm, so a fab size to keep little ones happy.