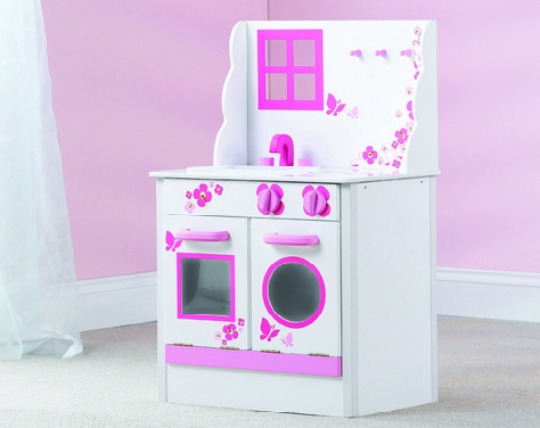 If you are on a tight budget this Christmas, then checkout what Amazon Seller Net_Price_Direct have to offer. This Molly Dolly Pink Wooden Kitchen is only £20.99, yes under twenty one pounds! Postage and packaging is £4.95, which means you are getting a pretty big Christmas gift for just £25.94 delivered.
This Molly Dolly Pink Wooden Kitchen is clearly aimed at little girls. It's suitable for age three and above, and is very pink indeed. It has a stencilled butterfly and flower pattern on. It's made from premium FSC® certified timber, that Amazon describe as solid and sturdy. Now I will reserve judgement on that, because I haven't seen it in front of my eyes, but for under £26 delivered, it'll be fine.
It has a removable sink, oven, washing machine, movable taps and cooker knobs. It's not a huge bulky item, but looks a fine size for a bedroom or playroom. For the money, it certainly looks the part. Looking from the photo, it looks basic but certainly not cheap and nasty looking.
Get your Molly Dolly Pink Wooden Kitchen, before they all sell out!