The Manor Wooden Dolls' House £64 Delivered @ Early Learning Centre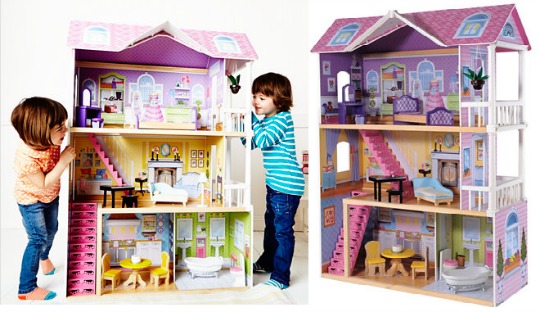 Dolls' houses do not come better than this! Any bigger and your child could move in with their dolls. These will sell out FAST! Originally The Manor Wooden Dolls' House were selling for £160 and you can see why, that's A LOT of toy right there. The Early Learning Centre slashed the price of it down to £80 and as if that wasn't good enough, pop promo code TOYS20 in at the checkout and get another 20% off, meaning this is ALL YOURS for just £64! Plus FREE delivery! Somebody scrape me off of the floor!
If it's wrong for an adult to want this so bad, then quite frankly, I DO NOT want to be right! As the name suggests, "The Manor", this isn't your bog standard wooden dolls' house. It stands at a whopping 120cm tall, chances are it'll tower above your child, and they will just LOVE that.
The Manor is is comprised of three storeys and has two balconies. It is full to the brim with detailing and luxury dolls' house furniture like dressing table and stool, bed with satin sheets(!), lamp, piano and stool, dining room table, two chairs, cake, toilet, roll top bath,  a soft velvety chaise longue and hanging baskets Dolls up the 12 inches high can be accommodated in this grand abode and can trot about this mansion like Lady Muck.
It's times like this I wish I had a daughter but it's okay because PlayPennies Emma has said I can go around and play with hers when it arrives.
Remember to use promo code TOYS20 to get The Manor Wooden Dolls' House from The Early Learning Centre for such a super price!