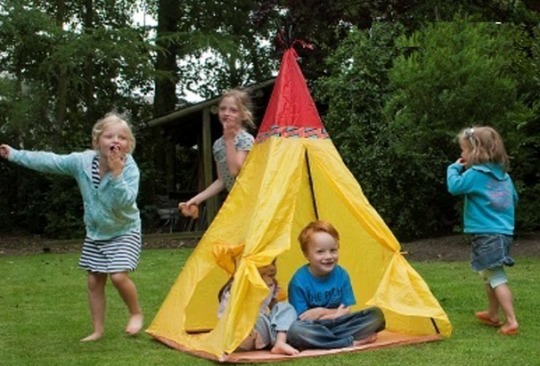 Forget your twee little playhouses, Teepees are where it's at! If you want a playhouse/den that is unisex then you won't go wrong with with a Teepee. They are suited to boys are girls alike. You can get one for just £9.99 on Amazon from UK based seller Trendi. That sub ten pound price also includes FREE delivery, not bad huh?
The Kids Teepee Toy has a four star rating on Amazon which suggests to me that it's a good buy. If you are looking for something different to buy for a birthday party present then this is it.
It measures one metre by one metre floor space and one metre 35 centimetres tall. As it isn't ridiculously huge it can be used indoor or outside. It's can fold away which is handy for when it's not in use. My favourite storage place is that cupboard under the stairs, although sometimes things go in there never to be seen again.
One things for sure about this Kids Teepee Toy is that it looks like great fun. Whether the kids play Cowboys and Indians or mums and dads, I am sure they will enjoy this cool den.