64% Off Chateau Kids Pop Up Tents Now £12.99 @ Trespass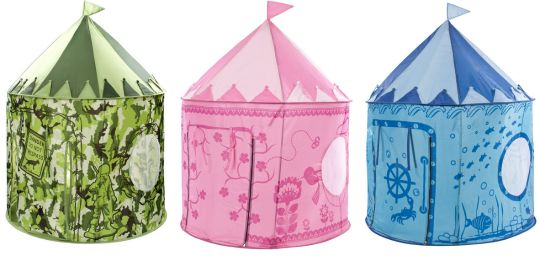 Great price on the Chateau Kids Pop Up Tents over at Trespass right now. They come in three different colours and designs and currently have a huge 64% off the retail price of £36.99 and are now down to just £12.99 each. They are available instore and via their website.
These play tents are a great buy for indoor or outdoor use, they come in three different designs the Camo* which has an army green design, complete with Army soldiers and barbed wire on the outside. The Aquatic* design which is blue with a fishy theme, designed to look like a submarine under the sea. And the Fairytale Princess Castle* which is a pretty pink design with flowers and birds decorating the castle.
The tents are designed with a lightweight fibre glass frame,making them easy to put up. They all have a roll up flap door that ties away easily and mesh windows for extra ventilation. I love the idea of the easy to collapse design, they come with their own carry case and in theory should fold down to quite a small size making them easy to store. Another great feature is they all have an SPF 50 coating on the outside to ensure your little one is safe from exposure to the sun when inside the tent.
You can keep up to date with all the latest Trespass vouchers and savings by heading over to our voucher section.
Home delivery starts from £3.95 and is free on orders over £50.
Thanks to Chelsee on FaceBook.