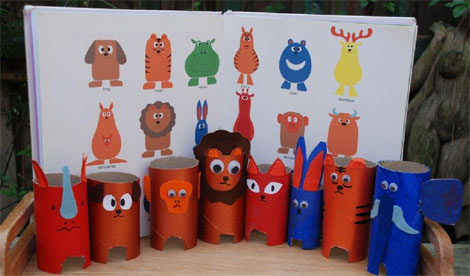 Here's another Workshop Wednesday from Maggy! [Emma]
As you may know, over at  Red Ted Art my children and like to get crafty. We also like combining what we craft with a story. Sometimes the craft comes first. Sometimes the book comes first.
Today, the book most definitely came first. It is called "Who's Hiding" by Satoru Onishi. I bought it a while back, when Red Ted (now 3yrs) was still small. Red Ted liked it, but it was nothing out of the ordinary. Enter Pip Squeak (17mths)… and she absolutely adores it. She can't get enough of it and we read "Who's Hiding" at least once a day. It goes to show how different children are.
So, what is the book? It is a very simply illustrated book on animals. Each double page has a set of 24 stylised animals – simple outlines and simple colours. The background of the pages changes colours, which results in one or more animals "disappearing" and you have to say which one it is. On some pages we are asked, "Who is sleeping?" On others, "Who is backwards?" Simple. Sweet. Fabulously illustrated.
On around the 100th read, I suddenly realised that a number of the animals are indeed loo roll shaped... enter today's craft!
They are not ALL loo roll shaped (thankfully, as I did get a *little* bored after about the 9th one). So, we focussed on:
The Dog
The Lion
The Tiger
The Bunny (as smaller thinner roll used)
The Rhino
The Cat
The Monkey
The Elephant
We used: Loo rolls (+one thinner tube, it may have had wrapping paper on it), acrylic paint (though you can use poster paint with a bit of PVA glue mixed in), felt (though you can use card), googley eyes (though I like the ones with "paper eyes" better), glue, black marker pen for nose and mouth
Paint your loo rolls and let dry
Look at each animal and cut to shape – e.g. cut out feed and  trim off top to cut out ears. Keep the trimmed bits to then glue on tails etc at the back
For the lion – we made a felt mane & tail tassle, for the bunny & elephant we painted extra paper tubs so we could cut out ears and then stick these on... the rest are felt shapes cut out
Finished. Play.
Don't forget to add your detail to the backs!