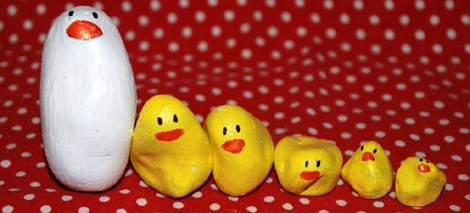 Maggy is visiting again from Red Ted Art, where she regularly crafts with her toddler. She's given us a few crafty posts in the past, such as the pirate boats, and the robot card. [Emma]
We make all sorts of things, but I particularly like it when our crafts only cost pennies and when they have a use… in this case little games and exercises. So I hope you will like our special little ducklings. They are super easy for children of all ages to help with and will provide you with hours of fun (I hope). What I also enjoyed about this craft is that it got us out and about first and then crafty later. Next time you are by the beach, near a stream or anywhere with pebbles… collect some specimins of all shapes and sizes and then bring them home!
The uses:
5 Little Ducks Went Swimming One Day song
Counting ducks: 1-6
Lining up by size
General duck playing – let the imagination run wild!
For the craft, you will need:

6 stones
White, yellow and orange acrylic paint
Black marker pen.
If you don't like using acrylic paint, use normal paint, but then varnish them afterwards, otherwise the paint will not stay on.

How to make:
1.      We spent a good 20 minutes just sorting the stones into "potential" piles… did any of the stones look duck like? Would any stones do better than others? In itself this was a fun and therapeutic exercise.. Will the stone stay upright (not a necessity)? Get 6 different sizes, one for mother duck and 5 for the ducklings!
2.      Thoroughly wash and let your stones dry
3.      Let the children paint one white and 5 yellow – now this could cause a problem for some toddlers, you may find they want to them all white or all yellow or all in a completely different colour.. you know what children are like! In this case… let them do their colours and do yours separately. Win win.
4.      Let them dry on grease proof paper to avoid "sticking"
5.      Add a little orange beak and little eyes. You could of course stick on little felt beaks, feet and googly eyes. That would look fabulous too. But we decided for paint, as that makes them nice and tactile and our 1yrs old will not pull everything off.
6.      PLAY!