What Do You Think Of Trolley Bags?

Becky showed the team this new product this morning and we loved it! Trolley Bags are a way to make grocery shopping easier, quicker and more environmentally friendly. It's four large reusable bags that are stored in a roll, and you just open them up and pop them in your shopping trolley.
There's no need for plastic bags, you can sort your shopping as you go and when you pack your shopping at the end you have it all in 4 big strong bags ready to carry inside.
The video on the Trolley Bags UK website shows how easy it is to use, and you can see it on the link below. They are £16.99 at the moment, and if you think that's pricey think of all the money you could be paying out in carrier bags charges. The charge for carrier bags is already in place in Wales and Scotland and it's coming to England soon. There's also the environmental benefits of not using all those plastic shopping bags to consider as well.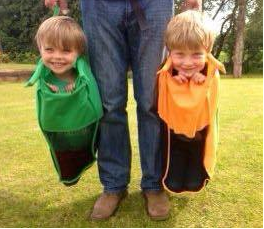 The one thing we did notice is that if you are used to having a toddler sat in the seat on the trolley that is going to leave less room for the bags, though it does look like they might still attach to the back of the pull-out seat. When someone raised this on the Trolley Bags Facebook page their response was "Pop them in the bags?" with this picture. At least we know the bags are strong!