Ten Picture Books £8.93 @ The Hut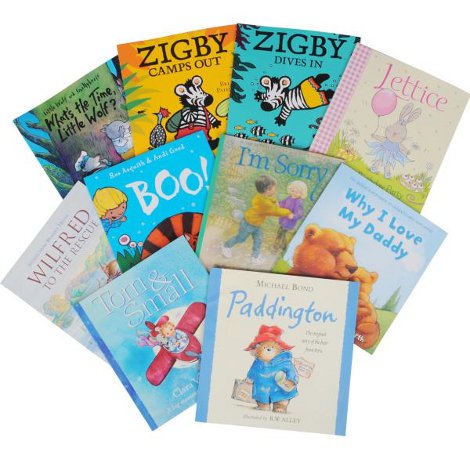 The Hut is selling a bumper pack of ten books for £8.93, under a Pound each.
I read today about a new survey done by TalkTalk which found that 57% of Britons believe that the tradition of parents reading bedtime stories to their children is dying out. When 62% of people said they think more encouragement should be given to adults to read stories to children, TalkTalk launched a competition to find Britain's best amateur storyteller. They hope to encourage the 48% of parents missing out on reading to their kids to do so – something this offer from the Hut should be able to help with too.
The selection of ten full colour picture books cover a wide range of topics and situations and include:
What's the Time Little Wolf - in a nice, smelly lair far away live the Wolf family and one day Mum and Dad send Little Wolf and Smellybreff out to catch a big, fat piggy for dinner.
Zigby Camps Out and Zigby Dives follow the adventures of little zebra Digby.
Wilfred to the Rescue is a new story from Brambly Hedge based on the world created by Jill Barklem.
In Why I Love My Daddy children explain why their daddy is just perfect.
Tom and Small features Tom who is going to big school tomorrow for the very first time.
Lettice stars the little rabbit with big dreams having a lovely time at a birthday picnic.
I'm Sorry, by the bestselling author of Guess How Much I Love You teaches the importance of kindness.
Boo is a fun picture book featuring monster characters.
Paddington is the classic story of the famous little bear from Darkest Peru
The bumper pack of books is dispatched in 24 hours and with free delivery.
Thanks to andywedge at HUKD