Magic Choc Flexible Chocolate 120g Starter Box £3.49 @ Play.com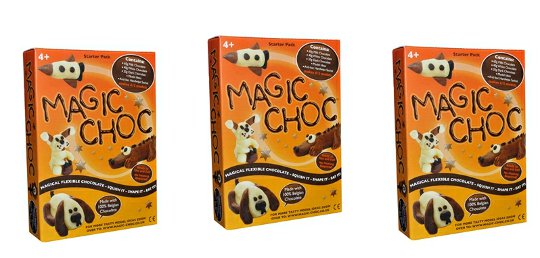 Play.com have Magic Choc Flexible Chocolate starter boxes on sale for £3.49 instead of £4.99, making for a £1.50 saving.
Honestly, as if there was anything better in this world than Belgian Chocolate, they now have magic Belgian Chocolate? It seems almost too much temptation to resist. I've never heard of this before but it does seem worth a try.
Well, that depends on which reviews you believe. Some absolutely love it and rave on about it's fantastic mouldability and brilliant taste, while others just want to send it back and moan about it being crumbly and impossible to shape. I guess it's going to be luck of the draw what you get.
The set comes with antibacterial wipes so you can clean your hands and surfaces before you start, but then you mould and shape it with your hands before tucking in. Reviewers have used these for party activities, goody bags, stocking fillers and more.
The overall theme for those it worked for was that it kept the kids busy for hours though – I'm assuming they mean the recommended over 4's as nothing keeps my two year old busy for hours, but I'm pretty sure it'll keep me occupied!
Thanks to wishihadadonkey at HUKD