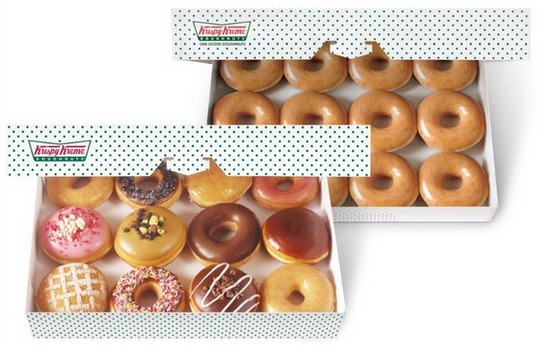 Are you up for a challenge? Just how many doughnuts do you think you can eat? Not that I am condoning competitive eating of course... but in case you have family or friends who love Krispy Kreme doughnuts there is a mega offer that has just started today.
From 11th to 17th may you can get a Double Dozen Doughnuts for just £13! That's amazing value compared to their normal prices. For that price you get an Assorted Dozen, which includes a selection of the gorgeous creme filled, decorated and flavoured doughnuts, and then you also get a Dozen Glazed Original ring doughnuts. Wow.
You can only get this Double Dozen offer in Krispy Kreme stores, not in the supermarket cabinets, so if you live near one of those you are in luck.
You can get details of this offer and find your nearest store on the Krispy Kreme website here.