Make A Jumbo Jammie Dodger with Asda Recipes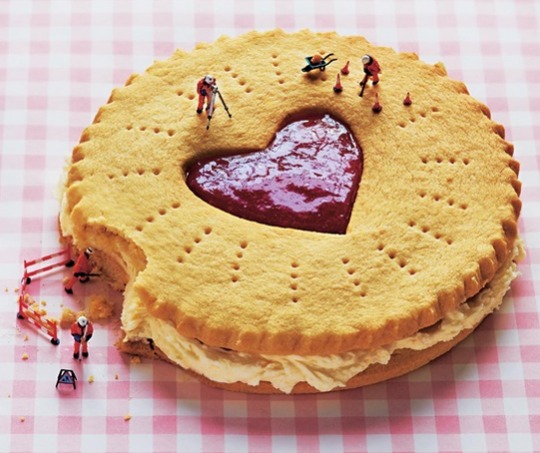 Asda have a some recipes for giant sized party food in their recipe website, and as well as the Giant Jaffa Cake we showed you lst week you can make over-sized versions of favourites like Iced Gems and Party Rings. And then there's this Jumbo Jammie Dodger!
Made according to the instructions this huge version of the jam and cream biscuit will be bigger than  most cakes, so it's definitely one to share. Imagine that as part of a party feast or an alternative to a birthday cake?
Here what you need:
100g caster sugar
225g unsalted butter, softened
2 large egg yolks
250g plain flour
75g icing sugar
1/4 tsp vanilla extract
100g raspberry jam (smooth seedless is best)
And here's what you do:
Pre-heat the oven to 160C/140C Fan/Gas 3. Draw 2 22cm circles on separate sheets of baking paper with a pencil. Turn the paper over – the circle should still be visible. With a wooden spoon, beat the sugar and 175g butter until evenly mixed. Add the egg yolks. Sift in the flour and a pinch of salt. Mix to a dough with your hands – don't handle more than necessary or it will become greasy.
Pat into 2 disks, each 2cm thick. Put one in the middle of one of the circles on the baking paper. Cover the dough with a sheet of cling film, then roll out to a 22cm round, using the circle as a guide. Peel off the cling film and prick the dough all over with a fork. Use your finger and thumb to flute the edges. Transfer, still on the paper, to a baking tray. Chill in the fridge for at least 20 minutes.
Meanwhile, repeat to roll out the second round of dough, then use a cutter to cut a heart shape out of the centre. Chill for 20 minutes.
Bake both biscuits for 25-30 minutes until light golden. Cool on the trays for 15 minutes, then carefully move to wire racks to cool completely.
Beat 50g butter with the icing sugar and vanilla until fluffy. Spread on the uncut biscuit. Spread 75g of the jam on the buttercream. Place the other biscuit on top then carefully fill the heart cutout with the rest of the jam.
There are lots of great ideas on the Asda Recipes website, including a really good section on Cooking With Kids, so take a peek if you want some inspiration.
Click here to see this Jumbo Jammie Dodger recipe on the Asda Recipes website.