Green Sprouts Toddler Feeding Equipment Review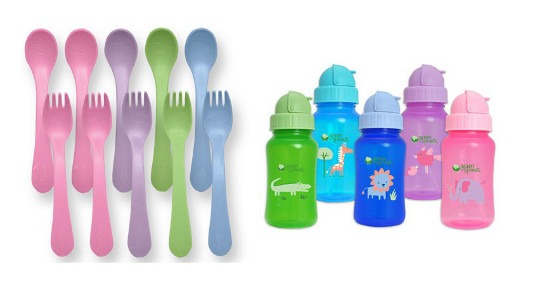 There are a lot of companies out there, all of whom want their customers to believe that they have something unique and different to offer. That's rarely actually the case, sadly, but Green Sprouts is a definite exception to what's almost a rule.
Green Sprouts comes from the company iPlay Inc., a US based company who I think are only just branching out into the UK – based on how hard it is to find any of their products online in the UK and the fact that there aren't any UK stores in their store finder. There's a pretty good selection on Amazon though, and a wide variety of products.
iPlay Inc. is a company that places a huge priority on environmental protection and keeping children safe. As a result they focus highly on product materials and the health and safety issues with raw materials.  Since 2003 all their products have been PVC free and since 2006 they've been BPA free too, since PBA was found to be a hormone disrupter. As a result of these changes, iPlay Inc. are now researching petroleum-free materials and other healthy ways to take care of babies and toddlers.
The products I've reviewed are an Aqua water bottle (£8.99) and a set of forks and spoons (£6.99).
What makes this pack of ten forks and spoons unique and different are that they are made from plant materials, and are biodegradable, multi-use disposable utensils. They are made from PlaStarch – I have no idea what that is – and are petroleum free.  These forks and spoons  can be washed in the top shelf of the dishwasher up to ten times and washing them by hand will extend their lives. I must admit though that we've been using ours for about two months now, and they've been in and out the dishwasher on daily rotations and I honestly can't tell which ones we've used more than others yet. I'm sure we'll find out soon enough, but at the moment we're still using all ten from the set.
The forks and spoons are great for toddlers who self feed a the handles are quite long, allowing for good grip and holding on, and the surface area of the spoon and fork are both quite small – perfectly little mouth sized.
While they're a plant material, they don't feel any different to any other plastic – they're not gritty and there's no residue on your mouth or tongue. In fact, until I read that they were plant material, I wouldn't have known.
The 10oz Aqua Bottle from Green Sprouts is also BPA free but is not made from plants. It has a sliding lid and a straw top and the bottle is contour shaped to make it easier to hold.
Suitable from around 2 years old it is dishwasher safe. The blurb on these Aqua Bottles exclaims quite excitedly that they are interchangeable, but I'm still not really sure what with.
Despite that, this is a definite favourite drinking bottle with my 3 year old. She loves  sliding the lid up and down, and she likes the straw too. Personally the straw annoyed me at first because she kept pushing it down into the bottle, but she finally out grew that particular bit of self-entertainment.
My only question mark  with these is that the plastic tubing - the straw - is really narrow and tough to clean. I'm not really sure how you'd get it properly clean if it had been, say, laying behind the sofa for two days, unbeknownst to  you. We wash it in the dishwasher though, and have had no complaints at all with it.
As I said, it's a favourite and I'd happily have quite a few in different colours, especially since they have rather sweet animal designs on them too.
The Good
I'm a sucker for anything that's better for the environment and isn't going to become landfill for the rest of forever, and the plant materials in the Green Sprouts range wont.
Labour for these products is ethically sourced and fair wages are paid.
I also try to minimise the chemicals in and around my children – in as much as you can sleeping on a bed and working on a computer and living in modern society, so I'm happy when thing are lower in chemicals
These are lovely products, nicely made, useful and well priced.
The products are all extensively safety tested
The Bad
Most of the products can't be found in the UK and the ones that can are primarily from Amazon. The two I reviewed today are on Amazon.
My pet-peeve is gender stereotyping by colours. It's unnecessary.
The Verdict
For parents who want to curb the influx of plastic into their home, who want to be environmentally friendly in their choices and who are careful about what goes into their child's mouth, these are really good. I also think they're well priced and provide good value for money. I would – and have – recommended Green Sprouts to friends.