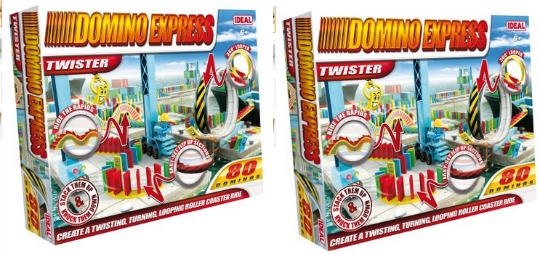 Sticking with the toy advert theme, I bring you Domino Express Twister. This is on Cartoon Network A LOT! My boys have asked for it at least a trillion times. It sells for £12.99 at Argos and £14.99 at Smyths. Get it from Amazon and it'll only cost you £6.49. We will take some of that, thank you very much!
Domino Express Twister is a game where you stack the dominoes and knock them over. I must admit there is something very fascinating about a domino rally. This particular set has them looping and twisting just like a rollercoaster. This set contains 80 dominoes for you to stack across the theme park track.
This falls short of the £10 threshold for FREE Super Saver delivery at Amazon, but I have a solution to that. Why not grab this other Domino Express Vertical*set for only £7.97? That means you will have two very desirable Christmas presents for around the price of one. Not mention delivered to your door, meaning no trailing around the busy, bustling shopping centres. I am pretty sure they can be used together to make a MEGA Domino run.