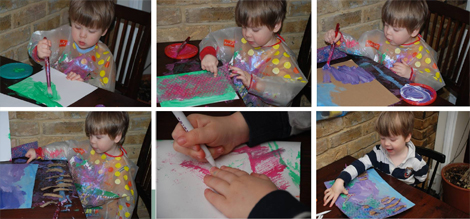 Maggy is visiting again from Red Ted Art to share another post in our workshop series here on PlayPennies.
We are now entering the big "dinosaur stage." Luckily my son isn't obsessed with any one thing, but does take an interest in your classic boy crafts – dinosaurs, pirates, cars etc… Having said that, so does my little girl, so hopefully you will find inspiration for both today!
So today we make a dinosaur collage.
This is a great craft, as it uses the traditional idea of bubble wrap printing. Most children LOVE bubblewrap printing – it is fun and yields great results. I also like this craft, as it tends a little more towards traditional art; the idea of building up a picture step by step, adding different layers and exploring different ideas and materials. We only used materials that we had to hand, so there is a little bit of recycling going on too.  Also, as we used dinosaur stencils, and this is a great exercise for tuning fine motorskills. I did have to help Red Ted, as he is only 3. But he had a go, which is the main thing!
To our collage
Materials: 2 sheets of paper (for the dinosaurs), one large piece of card (salvaged from a book delivery), bubble wrap, bark for trees, glue, paint, brushes, scissors.
You don't necessarily need the materials we used. E.g. You could paint or use tissue paper for the trees. This is to inspire you – make it yours!
For the dinosaurs: Paint the paper in one colour and then with a contrasting colour do some bubble wrap prints. We did green & red and pink(ish) & blue
Once dry, draw on some dinosaur silhouettes and cut out
In the meantime - paint the background to your scene: we went for a purple sky and blue lake… Red Ted chose all the colours, which means our dinosaurs don't contrast as much as they could, so you may want to see if you can use brighter or more contrasting colours...
Stick on some bark for tree drunks (you may have to break it up reasonably small – make sure the bark is quite flat, else it will not stick)
Stick on some of the previously used bubble wrap with extra paint for the tree tops
Stick on your dinosaurs!
Display proudly!
Tips:
Use more contrasting colours
Maybe use slightly less trees, so you have more space for the very important dinosaurs – some of our dinosaurs ended up going for a swim!