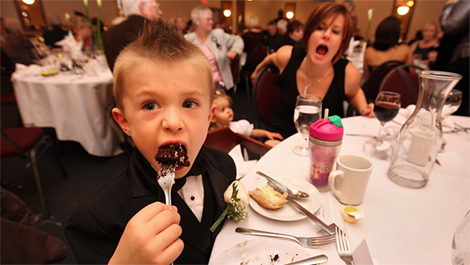 Today's post comes to you from guest author Michelle who writes Babydinesout, a blog about seeing friends, dining out and travelling.
I have a confession: when I was on maternity leave I needed to get out of the house.  A lot. Being at home all day with a baby is a challenge in lots of ways.  Finding baby-friendly places to hang out in proximity to, or with, other adults that are also purse-friendly was a challenge all of its own.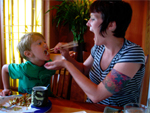 And if like me, you are desperately trying to hang on to the fantasy that you can do things just as you did before, the challenge is even bigger.  It can bring you down to earth with a baby-sized bump!
If you're looking for somewhere to pass a little time over a coffee and perhaps an indulgent snack you could do worse than some of the chain coffee shops. True, the coffee is not cheap, but many branches have a comfortable spot where you can take your time over a drink, and (luxury of luxuries) even read the paper if your tot is napping.  And they often have decent baby changing facilities.  My local Starbucks were, and continue to be, a dream.  Many Pret A Manger cafés are actually great mid morning when the breakfast rush has passed and the lunch one has yet to start.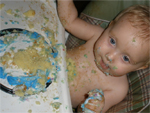 Before you start weaning, eating out with a baby is cheap.  Your only concerns are whether anyone will mind you breastfeeding and whether there will be anywhere you can change the baby.  Once I started weaning Jack I never went anywhere without a ready-made pot of mush.  I've recently discovered the 'weanie' which I wish I'd known about back then.  It is a genius portable masher so you can just mash a little of whatever you're eating for your tot without any need to order something specifically for them.
Once they get a bit older you have a choice of some great child-friendly chains which do excellent value kid meals.  My favourites are Carluccio's, Jamie's Italian and Wagamama.  I have to admit to having an aversion to places which are only packed with mums and babies, preferring places with a more mixed set of diners.  They tend to have better food and service.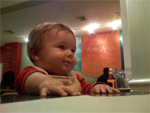 When you're eating in places which don't have a specific kids menu don't be frightened of just asking for an extra side place and sharing some of your food with your tot, rather than ordering an entire plate of stuff you know they'll simply chuck on the floor.
If you always have a container of whatever it is your tot prefers to drink (water, juice rather than the hard stuff, obviously), that will save you paying for anything more than your own.  Oh, and always, always have a bag full of snacks.  That way when they turn their noses up at the food you won't need to order extra dishes just to ensure they've eaten something.
With the Summer now finally here, dining out cheaply with a tot is even easier.  Picnic in the park anyone....?
[Photo credits: TheGiantVermin, eyeliam, Tobyotter, juhansonin, kennymatic]