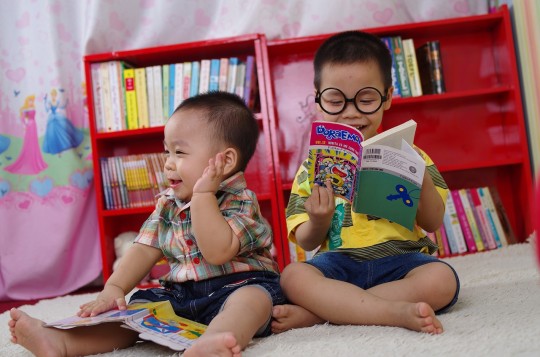 Who's on bedtime story duty in your house? My other half and I take it in turns to read bedtime stories to our kids, and even now that two out of three of our brood are old enough to read to themselves before going to sleep, we still try to read to them on a regular basis.
But according to new research, bedtime stories are better for kids when they're read by dads. Yep, really. That's not just me trying to wriggle out of another chapter of yet another Harry Potter book tonight.
Fathers should make a special effort to tuck their children in at night, according to research which shows that bedtime stories are better for youngsters when they are read by men. A study at Harvard University in the US into the effect on infants' language after a year of hearing stories read by their parents found that girls seemed to benefit particularly from being read to by a male.
The researchers described the impact of dads reading to their children as 'huge', especially when the child is under two years old.
Now as much as I love reading bedtime stories - it's hand downs one of my favourite parts of my day - I also inwardly often breathe a sigh of relief when Daddy decides to take over. Because very often that half hour while he's doing all the voices in the latest David Walliams or trying not to shed a tear at the ending of Danny, Champion of the World is the first quiet moment I get to myself all day. And yes, I treasure that.
It surprised me, however, to read that one in four parents of young children say they never read to them or do so only twice a year, while only half of the parents surveyed say they read to their kids on a daily basis. Given that the benefits of reading to babies and children are so well-documented - it boosts everything from language acquisition to bonding - that really took me by surprise.

We'd love to hear your thoughts on this over on our Facebook page. Do you love reading bedtime stories or do you admit to skipping a page now and again if you think you'll get away with it? And will this latest research persuade you to leave bedtime reading to Dad or would you rather not give up that sacred moment of quiet togetherness?