I tend to cook up a storm for Christmas dinner. And why not? It's all about having a big feast and being extravagant with food. I remember talking to my niece on the phone one Christmas when she was four, and she was so excited because "we've got a big lump of meat for dinner!"
When it comes to turkey I'm always hugely surprised at how much meat is on there. I don't know why when I was just as surprised the year before! But there you go. All those sleeps between Christmases seems to wipe the memory clean.
It isn't just the cooked food that you need to make use of afterwards. There's all the other little odds and bods. Like the two carrots left in the bag, the half a courgette, the other half of the asparagus.
Here we are two days after Christmas and I'm still left wondering, what creative things can I do with all the left overs, other than sandwiches? What is it that you all do?
Bouillon Is Brilliant
First I had to get rid of the leftovers from the chicken I roasted on Christmas Eve! I love Marigold Swiss Vegetable Bouillon. It is so much creamier and tastier than stock, even the home made stuff. So it all went in a casserole dish after being first cooked a little in olive oil and the chopped up red onion that I'd forgotten to put in the roast vegetable medley on Christmas day!
Along with the last few carrots remaining in the bag, not needed for Christmas dinner. And the final eighth of the Savoy cabbage I didn't need on Christmas eve. A splash of soya sauce, a little cornflour, and sliced potatoes on top. And there you have it, my leftover hotpot.
To Soup Or Not To Soup
Diane, mum to two  girls, took her turkey left overs down the soup route. "I made a turkey broth this year - boiled the carcass, got the meat off it, skimmed off the fat from the liquid (discard fat), used the stock, meat, left over veggies (carrots, potato and parsnips) added some sweetcorn. It was a hit! People are still making sarnies from the carved turkey of course. The sprouts went to feed the chickens this year - learned from my mistake last year, don't put them in soup! it's all you will taste."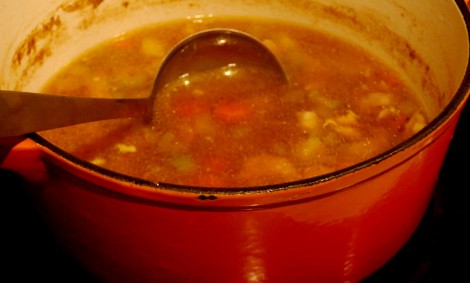 However, there was a bit of a divide about whether to use the bones for soup or not amongst our parents. Mum to a lively lad of 11, Donna, is firmly in the other camp. Donna says " don't recook turkey or use bones for broth." She had a few other lovely suggestions instead.
Tasty Treats
The leftover recipe ideas that Donna came up with shows what a great cook she is. I'm not sure I could pull these off, and I'm sure I'd never do it as well as she can, but they sure do sound simple enough and totally delicious. Especially this one for what to do with the left over roast potatoes (although along with Dad Chris, I'm in the group who's MORE than happy to eat these tasty treats cold, as they are!).
Donna's suggestion for lots of leftover roasties is to "make an adapted version of stuffed potatoes/delphinoise. Add cheese, red onion, tomatoes, bake to melt cheese - or add cheese and bacon - and then serve with a dollop of sour cream."
I dearly love frittata, although I have to admit I've never been brave enough to make it myself. This is a great idea for left over sprouts though! Donna says "cube the potatoes and A FEW sprouts, add cheese and make a frittata."
But, I don't have a frittata pan. What to do? "All you need is a skillet" Donna says.  "TEFAL is good. An 8-inch skillet can cook a frittata made of 5 eggs, a good handful of grated hard cheese (parmesan or romano, but cheddar ok too), 6 sprouts chopped and one cubed potato. Season eggs well with salt, pepper and a bit of herbes de Provence, if you like. Also, cooked onion, chopped and sweat til brown, are delicious added to mix."
"I do my frittata in a big frying pan - or some kind of pie-tin or cake-tin if necessary" says Shona. However, Donna wonders if a pie or cake tin would really make a frittata - given that the word means 'fry' - or a quiche. I personally think a quiche sounds like another great idea!
Sweetly Simple
Mum to three - two boys and a girl ranging from 11 to just under 1- Carolyn keeps it a bit more low key and just throws her leftovers into an omelette. Shona likes to go very British on Boxing day sticking all the vegetable leftovers into "bubble & squeak and fried egg".
Want something a bit different for sandwiches then try this idea from Donna. "Cube leftover turkey and spuds, add red onion, bacon bits and tomatoes, either mayo or salad cream, and make American-style sandwich filling."
Tricky Stuffing
I don't know how but I ended up with three quarters of a small pie dish full of stuffing left over. It didn't look like that much in the packet! It makes a nice garnish inside sandwiches, of course. Very tasty. But, really there's only so much in the way of sandwiches you can eat really.
I did a google search on this one and discovered that you can freeze it! So I've done that. Suggestions online include using it to stuff pork (will have a go next time we have pork),and  using it in meatloaf (not sure exactly what this is outside of US TV shows, but will look up a recipe).
Then we're back at the soup option again! I found this Phil Vickery (chef on ITV's This Morning) recipe during my search. It's called Leftover Sunday lunch roast chicken broth, and uses 150g of leftover stuffing.
And Finally
The great thing about left over recipes are that they're not just for Christmas! You can use them any other time of the year when you cook up a big meal. So please do share here - what do you do?