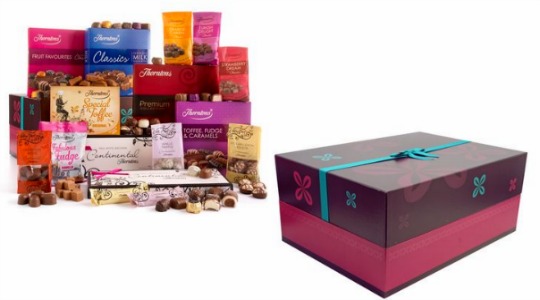 Thorntons reckon the contents of their Chocolate Essentials Hamper is worth £80, and it must have been selling for that at some point. As lovely as it is, we are not too sure we would pay all that. It's currently reduced to £34 and can be had for even less with promo code CHKL. Pop that in at the checkout and it'll cost you just £28.90.
The Chocolate Essentials Hamper contains:
Continental Milk, White & Dark Signature (300g)
Continental Milk, White & Dark Collection (150g)
Original Special Toffee Box (525g)
Premium Collection (200g)
Classics Caramels (146g)
Classics Milk Signature (276g)
Classics Fruits Collection (143g)
Vanilla Fudge Bag (140g)
Continental Vanille Truffle Bag (103g)
Continental Sicillian Lemon Mousse Bag (108g)
Classics Milk, White & Dark Bag (106g)
Continental Chocolat Riche Bag (93g)
Classics Milk Strawberry Bag (114g) Yummy! These are my favourite!
Classics Turkish Delight Bag (101g)
Continental Viennese Bar
Continental Lemon Bar
Add something costing £1 or more like this Chocolate Mouse* and get FREE delivery, otherwise it'll set you back £4. This hamper has a Best Before Date of November on it so may be better for keeping in the house for everyone to share over the festive season.
Thanks to a-rastrick @ HUKD