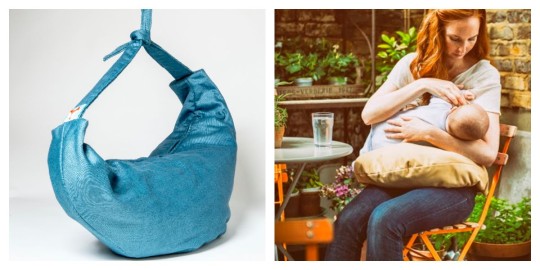 Have you heard about the new Cub changing bag?
Billed as the first baby changing bag, feeding pillow and carry support in one, the Cub Bag was designed and developed by a mum who never found a baby changing bag she really liked. Following a trip around South America, she created the Cub bag based on the traditional, multi-functional, baby carriers she saw in Peru.
The result of two years' design and development, the Cub Bag is made in the UK and available in a limited edition range of high-quality faux suede and linen fabrics.
And get this - it doubles as a baby feeding pillow when you're out and about and even encourages improved posture and the correct feeding position for parent and child.
And when your little one's not so little, the Cub Bag can be used as a carry support worn across the body and used to take some of the weight of your toddler off the hip - apparently a common cause of poor posture and back problems in mums.
It's not cheap at £120 but if you factor in that it'll technically save you the cost of a nursing support pillow AND spare you back-ache, it might make a pretty decent investment.
I love the idea of this, although I'd have to cut down on the number of books I usually cart around with me cos I don't reckon they'd make the comfiest of fillings when this bag is in use as a nursing pillow.
But what do you think about this? If your budget could stretch to it, would you fancy one?