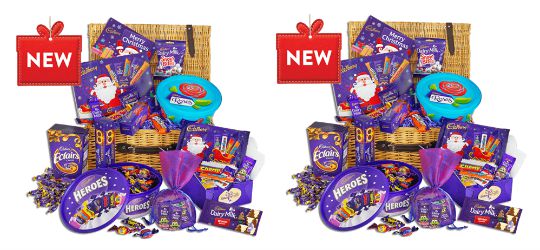 You know Christmas is coming when you start to see Christmas chocolate tubs in the shops! The Cadbury's Christmas Magic Hamper contains all the magic of Christmas and is currently on sale for £50 at Cadbury's Gifts Direct. This basket is full of Cadbury's goodies to satisfy even the sweetest tooth. Perfect for splitting up and giving as gifts or for treats at Christmas for the family. If it was in my house it certainly wouldn't last a week let alone until Christmas!
So I'm sure you want to know what treats you get in this fab hamper, so here goes: 1 x Heroes Tub 760g, 1 x Roses Tub 753g, 1 x Christmas Selection Box 180g, 1 x Eclairs Carton 420g, 5 x Freddo Popping Candy Chocolate Bars in a Cadbury purple organza bag, 1 x Christmas Chocolate Gift Box which contains: 1x Christmas Selection Pack 81g, 2 x Freddo Popping Candy 18g, 1 x Dairy Milk Winter Edition Bar 100g, 1 x Cadbury Buttons Tube 72g, 1 x Snow Bites Bag 90g, 1 x Bitsa Wispa Tube 70g.
Not only do you get all the goodies above, you also receive a 20" wicker hamper. You could reuse this year after year and make your own hamper, it could become a new family tradition, everyone can choose a few of their favourite's and it can be a gift to open on Christmas Eve. Make sure you keep an eye out on the Playpennies blog for lots of idea's for your own hamper, such as these Christmas Chocolate Tubs. What would you put in yours? Let us know if you manage to put yours together cheaper than this Cadbury's one, we would love to know how you did it.
Home delivery is £5.50 on this item.