Boursin Cheese Portions Review

I love cheese. Seriously, I am not supposed to eat it, but it's so good, I can't resist. And when a cheese is as good as Boursin cheese is? Well, there's no stopping me. When the guys from Boursin sent me a couple boxes of Garlic and Herb and Black Pepper cheese in the new 'Portions' packages, I was over the moon.
The new Portions are packs of six individually wrapped Boursin Garlic & Herbs or Black Pepper portions. They are tasty and convenient and perfect for a lunchbox treat, teatime snack or picnicking.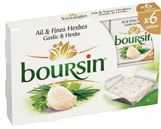 Like traditional Boursin that comes in the 150g packs, these cheeses are creamy, rich and beautiful. They are full of flavour and they enrich a meal with minimal effort and much smaller quantities than using, for example cream cheese.
The smaller portions are useful for keeping the cheese fresh. If you've ever had a Boursin cheese forgotten in the fridge - Oh, the tragedy - you'll know it forms a hardish shell that's not really nice to eat. While that's not a regular problem in our house, since we tend to eat it well before it has any chance of getting old, the packaged small portions keep the cheese fresh for longer.  This is ideal if you don't eat a lot of it but want to keep it on hand for when the mood strikes. It's also ideal if you are the only one in the house that likes it, as it means you can have your cheese in responsible sizes, helping with portion control.
The individual packaging also really helps with transporting it, for example for lunch boxes or picnics. You can pop a square into the lunch box with some crackers, and when you're ready to eat it, open it up and enjoy a fresh cracker. That's so much more preferably than having the cheese oozing out from the sides when you want to eat it hours later.
While Boursin cheese, crackers and some home made apple chutney will do me for breakfast, lunch and dinner, you can also spread your culinary wings and add these portions to your pasta to give it some flavour, to your mash to bring an added dimension to it, or to stuff chicken. Actually, you can add it to anything you'd add cream to - anything savoury that is - for it to just 'pop' the flavour.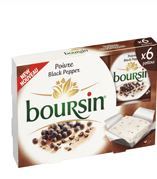 Of course, anything you buy in smaller sizes does cost more, so whereas a 150g portion at Ocado will cost £2.35, making it £15.67 per kilogram, the 96g portions are £1.75, which translates to £18.20 per kilogram. If you're into your bulk buying you might think it's cheaper to go with the bigger portion - it would be for us, because we open and consume the 150g portion in a day or two - but if you aren't going to do that, it will work out more cost effective to buy the more expensive portions, knowing that you wont be throwing it in the bin.
We do love these cheese, in both forms, and both the Garlic and Herbs and Black Pepper flavours are absolutely fantastic. There's nothing not great about them.
The Good
Well, I think you get the idea that I might be a fan of these Boursin cheeses. The truth is, we buy them regularly anyway, so getting the packages sent out was an added bonus. I wouldn't have bought them in the small packets personally, but actually, now I probably will buy them too, because the portions made for great lunch box and on the go snacks.
It's really nice to have decent cheese in snackable portions.
As I've said above, I love the flavours available. The garlic isn't overpowering, the pepper isn't too biting even though it has a strong flavour. Even my children eat them, which is great - and not!
Oh, and if you need recipe ideas, the Boursin website has a few!
The Bad

Nope, nothing bad here about this product.
The  only thing I'd improve is availability. I've been to my local Sainsbury's and Tesco and while both sell the 150g blocks (rounds) they don't sell the portions, so I'm hoping they become more widely available, otherwise I'm going to have to sign up for Ocado to get them delivered!
The Verdict
Do I have to spell it out? I love this cheese. It's versatile, it's delicious, it's rich, it's beautiful. Buy it. Buy it now. But leave some for me.