Amy's Kitchen Tinned Soup Review

I've never been much of a fan of tinned soups. Yes, they're affordable and convenient, but to me a good soup is rich and hearty, and packed with fresh ingredients – not the contents of a tin that's been sitting in the kitchen cupboard for a couple of months.
But sometimes there just isn't time to do things the old fashioned way and you're faced with a choice of tinned soup, or no soup at all.
That's where Amy's Kitchen Soups come in. They're a bit pricier than your everyday tinned soup, but claim to be full of flavour, goodness and nourishment.
The revamped Amy's Kitchen organic soup range gives you nine flavours to choose from altogether – six "Classic" options and three more indulgent "Hearty" flavours.
All nine are vegetable-based – no chicken soup here, I'm afraid – and are Vegetarian Society approved. Most are also suitable for vegans and are free from gluten, soy, dairy and lactose, making them a great Free From option for those with special requirements.
So far so good, then. In the end, though, it's all about flavour, so are Amy's Kitchen soups as tasty as they are nutritious? Read on to find out.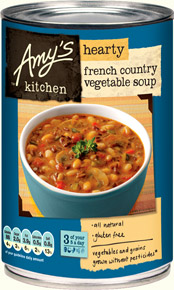 To find out myself, I gave four of the flavours a try: split pea, lentil vegetable, chunky tomato from the Classics range and French country vegetable from the Hearty range.
Split pea soup isn't the most appealing stuff to look at, but if made well it can deliver surprisingly complex and balanced flavours. The Amy's Kitchen take on things wasn't as thick as split pea soups I've had in the past, and to my mind the split pea taste was overpowered slightly by the onion taste, and so it didn't really deliver on the balanced flavour side of things, either.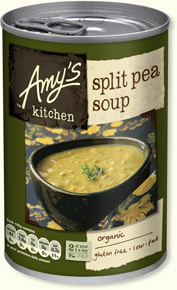 It was by no means unpleasant, and everyone's tastes are different, after all, so I wouldn't advise against giving it a try. But of the four options I tried, the split pea soup was the least appealing. It doesn't help that I can't abide peas, I'm sure.
What you can be sure of is that it's wheat, gluten, dairy and cholesterol free, and a 100g portion (a quarter of the tin) will tick off two of your five a day.
Next up is the lentil vegetable soup, which is even healthier, giving you three of your five a day, and is similarly wheat and gluten free. It's packed with all kinds of hearty organic vegetables, including green beans, onions, carrots, celery, potatoes, tomatoes and spinach – not to mention the lentils themselves.
The consistency of the soup is good and the flavours are rich but well balanced. If you're looking for your ideal hot soup for a cold day, look no further.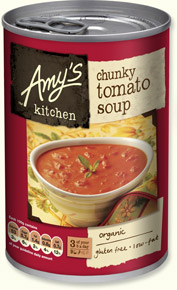 A good tomato soup is a must in any self-respecting soup lineup, and the Amy's Kitchen version comes in chunky form. If you imagine your typical creamy tomato soup and then chuck in some chunks of organic vine-ripened tomatoes, you've got the idea.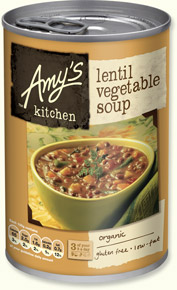 Not everyone's taste in tomato soup is the same, but for me this was another winner, absolutely bursting with flavour but without ever becoming overpowering. The added tomatoes gives an extra layer of texture too, and each tasty portion covers three of your five a day.
The final soup I tried, this one from the Amy's Kitchen Hearty soups lineup, was the French country vegetable – the kind of name that makes you think of wholesome, farm-grown ingredients and deep flavours to warm you up at the end of a cold day.
You're never going to get quite that level of hearty goodness from a soup that comes from a tin, but it's far from a bad attempt. The flavour profiles are all there, and are well balanced, and you can sleep easy at night knowing the non-GMO organic vegetables and grains have been grown without pesticides. Plus you can tick off three of your five a day from a single serving.
As I mentioned at the start, Amy's Kitchen soups aren't cheap – the Classics flavours go for £1.69, while the Hearty soups cost a full £2. For that, you have every right to expect a lot, and from where I'm standing three of the four options I tried delivered and then some, while the fourth – the split pea soup – was still good but no quite at the same level as the others, as judged by my taste buds.
Whether they're good enough to warrant looking past the cheaper, more popular brands out there is up to you, but Amy's Kitchen soups are about as good as tinned soups get.
The Good
Well, read the above for a breakdown.
The Bad
They are more expensive, but for me that's okay as I don't mind spending a little more money on food that I know is actually good for me - and my children
The Verdict
Try the soup! Yes, I prefer cooking from scratch, but that's not always an option, so it's nice to have a wholesome backup available.