70% Off Food Gifts @ Debenhams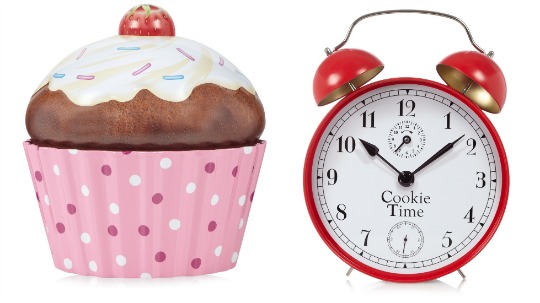 I've been loving the Debenhams Blue Cross Sale, but with all the toys and kids clothes I missed this - there's 70% Off Food Gifts! If you're on a diet you'd better be gone now.
There are a few Christmas themed things that are unlikely to be in date for next year, but there are loads of biscuit tins and boxes of chocolates that are not festive at all, that you could buy as cut price gifts to pop away in the cupboard or to scoff yourself.
I need the Cupcake Biscuit Tin*. Not only does it look wonderful, but it's full of Belgian chocolate cookies too. This was £10, and is now just £3. How amazing would a giant cupcake look in your kitchen?
I also love the retro Radio Cookie Tins*, the Fridge Biscuit Tins*, and the Cookie Time Clock* is fab too. There are also some boxes of Thorntons at knock down prices, and jars of sweeties too. And apart from a couple of half price things, most of it 70% off.
So your main choice is do you go for Chocolate or Biscuits? It's an important decision. I usually say both. ;)
Oh, and there's a couple of boozy gifts in there too. I forgot about those, when I saw the chocs and biccies. Priorities you know.
You can pay the £3 for home delivery or you can click and collect for free.