£10 Cashback When You Spend £10+ On Dominos @ Quidco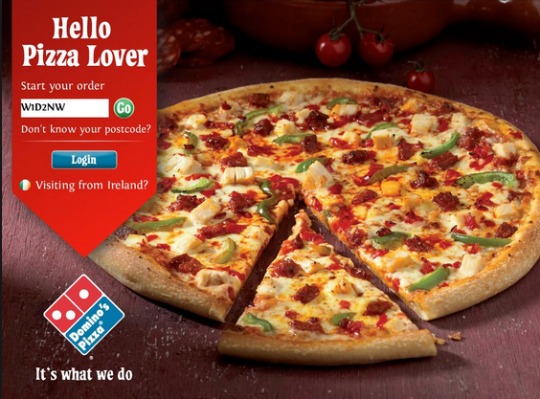 What's better than getting in from work and not having to cook tea? Getting in from work and ordering a Dominos Pizza and getting £10 cashback for your bother, that's what! If you haven't done already this one is for newbies only, sign up to Quidco and spend just £10 or more at Dominos Pizza and get £10 back. This to me is an absolute no brainer. Now excuse me whilst I order some pizza.
In order to get your £10 Cashback, you must be a new customer, register then go through the Dominos Pizza link. Once at Dominos, order your delicious goodies just like you normally would. A pop-up normally appears from Quidco saying that your visit has been "Tracked" and that's your part all done.
If your Quidco account is genuinely new, you should receive your cashback without a hitch. This offer is limited to 2000 redemptions and can only be used between 10.00am on 27th May 2015 to 11:59pm 3rd June 2015
Here are some of the Terms and Conditions from Quidco:
All information detailing how to receive the £10 bonus forms part of these terms and conditions. It is a condition of participation that all rules are accepted as final and that the participant agrees to abide by these rules. Participation will be taken to mean acceptance of these terms and conditions.
The information given in these terms and conditions is correct, but Quidco reserve the right to change any of the below without prior notice.
£10 cashback is awarded on transactions of £10 or more at Domino's.
This offer is available for new members with no previous purchases or cashback through Quidco.
The offer is available to new members from 10.00 27/05/2015 to 11:59pm 03/06/2015, or until 2,000 redemptions have been claimed on a first come first serve basis.
Cashback will be put into the member's account before 30/06/2015.
For the 'Domino's – Quidco' transaction to be awarded at the promotional rate of £10 cashback, the purchase should be made through the Quidco link on the relevant offer page and successfully tracked: http://www.quidco.com/dominos/?ac/
The offer can only be redeemed once per household and fraudulent or duplicate claims will not be paid.
You must make a minimum order value of £10 to qualify for this cashback offer, including any cost of delivery.