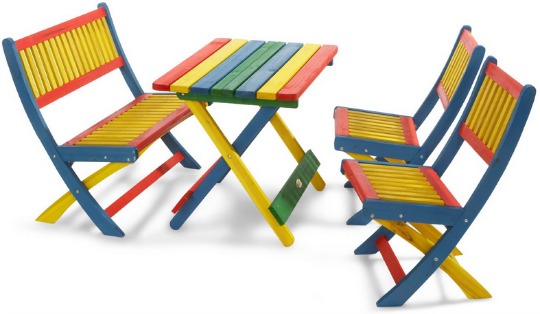 We have featured cheaper children's furniture sets than this one, but this is so lovely that we thought you might like to see it. This Habau Wooden 4 Seater Children's Table Set is £67.62, but when you use the voucher code HOMEGDN5 at the checkout the price will come down to £62.62 with free UK delivery included.
This is a wooden set pre-glazed in bright colours, so you don't need to treat it. There's a two seater bench, two single chairs, and a table included. All of the pieces of furniture fold down flat, so that makes it much easier to store them away for the winter. They also have in-built folding safety systems to prevent injuries whilst folding them away.
There's no building involved as the pieces come already assembled (hooray!) and they are made from weatherproof pine wood. This looks like a really good quality garden furniture set for children, and with those gorgeous colours is definitely going to brighten things up.