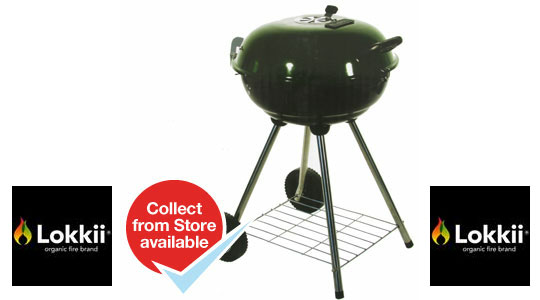 If you're in the market for a BBQ, but don't want to spend a fortune, then you might want to take a look at this Weber style BBQ that's on sale at Home Bargains for £15.99 rather than its original £32.99.
There's a standing joke between me and my ex-husband about BBQs - for the eleven years we were together, and the three we haven't been, just him thinking about having a BBQ is enough for the storm clouds to gather and torrential rain to start falling.
It got to the stage where friends and family FORBADE him from planning to cremate sausages over hot coals on weekends when they required fine weather; I have a photo of him tucked away somewhere, defiant and stoic at the BBQ under an umbrella in the pouring rain; too funny.
Talking of rain, let's be optimistic and assume that the entire summer isn't going to be a complete washout and that BBQ appropriate weather will return - if you pick up one of these Weber style BBQs now, you'll be prepared and ready to pounce when the hot weather strikes.
It's a classic kettle shaped BBQ, with a 17" diameter and has a porcelain enameled lid.  It has a storage shelf, a warming rack and comes with a 1.4kg bag of BBQ briquettes to get you going too.
You can collect it in-store for free or arrange to have it delivered to your home.
Happy BBQing (even if it is in the rain!)