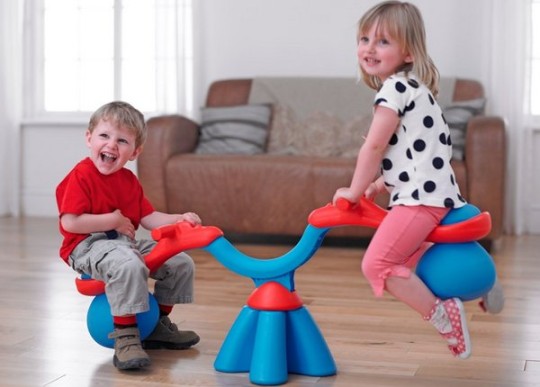 The Spiro Bouncer is currently £29.99 at Smyths, with free collection from their stores. If you have to have it delivered you'll have to add £2.99 bringing it to £32.98.
For the first time ever, really, my kids have absolutely loved their outdoor toys this summer. Their slide is probably the one thing they've actually played on every single day. That being the case I'm really sad that those outdoorsy kind of toys have to come to an end soon, which is why I'm loving this indoor seesaw! And obviously you could use it outside in the meantime too. Just brilliant, really.
The TP Spiro Bouncer spins 360 degrees, so you'll have to have good space for it, and it bounces up and down on the ball bits too. I also love that the soft balls on each side cushion the impact - that's something I always worry about with regular slides.
It has a hollow base which can be filled with sand for added stability and it comes with a funnel included so you don't have sand going all over the living room or play room.
Apparently it's easy to assemble too which is a great start to any toy.