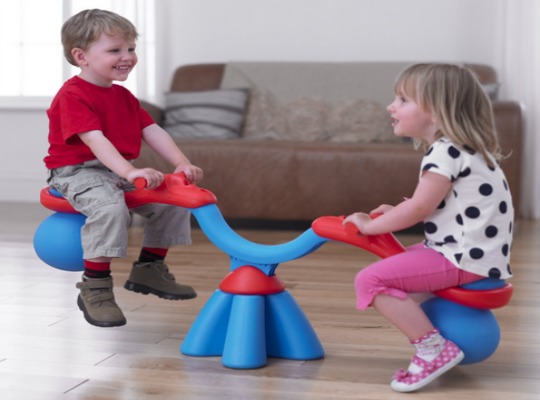 A see saw that bounces... that's a child's idea surely. It's genius! The TP Spiro Bouncer is the see saw to buy, for sure. Not only does the bouncing feature appeal but it can be used indoors too and won't damage the floors. Smyths Toys Store had reduced these to £29.99 but sold out VERY fast. Amazon have price matched them and still have stock. These sell for £40 plus elsewhere so this is a true bargain.
The TP Spiro Bouncer not only bounces up and down like a see saw but it can rotate 360 degrees. The kids will have so much fun on this. Each seat can take a maximum weight of 25 kg and I wish they would make one for adults.
The base can be filled with the likes of sand if you would like it a bit more stable. I can see the kids getting excited so that's maybe best.
This modern day see saw has a 4.3 star rating on Amazon, which suggests to me that it is a good buy. It is aimed at younger children but it's not recommended for little ones under three.