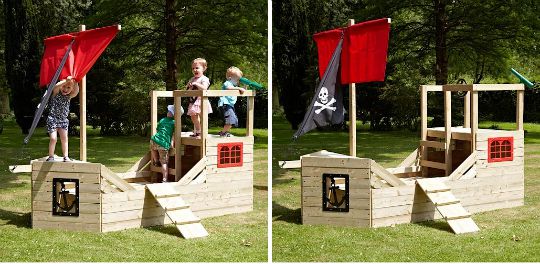 I know this is still a lot of money for an outdoor toy, but it's also a huge saving, so just in case anyone but me had taken a shine to this fantastic play centre I'm letting you know about this offer.
ELC and The Entertainer have 20% off TP Toys, and this Forest Pirate Galleon has £80 off, taking it down from a penny shy of £400 to £319.99! When you see that the nearest price you can get it for is £350, and that many places are still charging the full RRP of £559.99 I would say that you are getting a great price. Both stores are offering free delivery on this as well!
This fab garden toy is packed with loads of features and can comfortably hold a crew of up to six kids aged three to 10 years. They can walk the gangplank, spy on enemy ships from the secret lookout or take the steering wheel to voyage across the ocean waves. There's also a captain's cabin, red sail and Jolly Rodger flag. This ship is made from FSC certified timber and has a five year guarantee against pesky wood rot. 
If you need to check that it will fit in your garden the measurements are 104 x 272 x 206 cm, so it's a big old ship. I love this, and I thing it's definitely something a bit different from the usual playhouse!