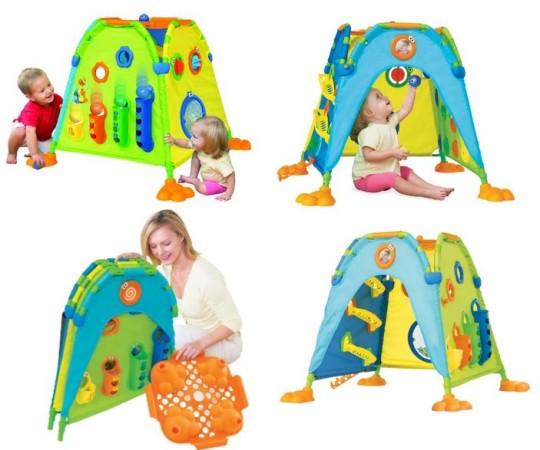 This is an amazing price for the TOMY Play to Learn Discovery Dome Deluxe: £29.99! It's £36+ on eBay and upwards of £40 everywhere else! This is an Amazon product so it comes with free delivery too.
These domes are brilliant. My kids had one on loan from a friend when they were smaller, and it is like those activity cubes and a play tent all in one. It's really cool.
The Play to Learn Discovery Dome Deluxe is an interactive playhouse packed with fun developmental activities for toddlers to discover on the inside and out. Each of the four walls has specially designed activities to develop baby's manual dexterity and introduce colours, shapes, and numbers for hours of fun.
There's so much to do on this play tent. You can pop a ball in the moving cup wall and watch it quickly drop down from cup to cup on the inside and outside of the dome; the balls can also be posted through the ball pocket wall and then released with a set of coloured and shaped sorting keys.
The Discovery Dome Deluxe features four big 'paw' feet for stability, as well as a mesh window on the roof so you can easily see inside. The dome is flat packed for home assembly and easy storage.