(EXPIRED) Toadstool Table & Stools £59 @ The Original Factory Shop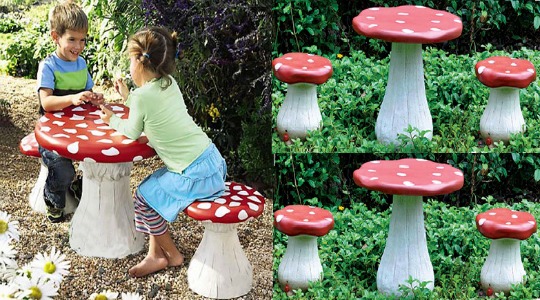 We bought a house last October and the main thing that sold it to me was the Fairytale Garden. There is a Playhouse that can be found down the hidden path, such fun for the kids. That's why when I saw this whimsical Toadstool Table and Stools for children I just had to share it. It can be found instore and online at The Original Factory Shop for just £59. It has an RRP of £79.98 which to me is utterly ridiculous but I do think it's worth it's sub £60 price tag.
The Toadstool Table and Stools are much more realistic than others I have seen. It comes with a giant mushroom as the table and two little ones as stools. Think of the summer when the kids want to go outside. They can enjoy the sunny weather whilst relaxing at their own little mushroom table.
This lovely set is suitable for children aged two years old and above and is ideal for those summer days picnics in the garden. It blends in quite nicely with the outdoors too.
This set is available in The Original Factory Shops now or pay £4.99 for home delivery.