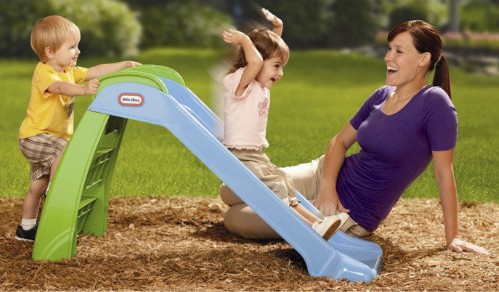 Mothercare and ELC are both selling the Little Tikes My First Slide for 20% less than RRP at £23.99 right now, but if you've not used the VXXN code yet, you can get it for £19.19. Delivery is available to your local store for free, otherwise you have to add £2.95 to have it shipped to your house.
These slides are stupidly exciting to little people, much more so than their plain and rather dull appearance would lead you to believe. I think it's because it's at a height that allows them a sense of control or accomplishment without fear? I don't know the psychobabble too well, but watching my 1 year old and her 18 month friend going down these recently, that's my conclusion.
The fabulous thing about this slide is that it doesn't have to dominate your garden, so your little ones can enjoy a bit of garden equipment, without you having to sacrifice your whole patch of lawn to it.
The handrails on this slide snap into place to give little ones a helping hand,  and the slide folds for easy storage when not in use. It's designed for 'great stability' so it won't topple over, and isn't  really high enough to inflict much damage in a fall.