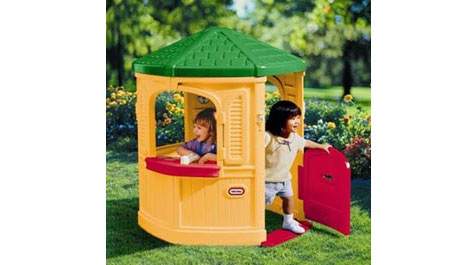 You can pick up a Little Tikes Cosy Cottage for £59.99 instead of £155 if you buy it from Bargain Crazy, saving yourself a WHOPPING £95.01 (that one penny makes all the difference you know)!
Bargain Crazy is RIGHT; Tesco are currently selling the Little Tikes Cosy Cottage for £132.
This is a smoking hot deal and I can imagine, at this price, it won't stay in stock for long; if you've  been looking for one, or think your little one would like it, please don't dawdle over there as you may just be too late.
The Little Tikes Cosy Cottage is bright and colourful, as you would expect, and your little one will need you to put it together for them before they can play in it; it's easy to put together though.
It has a large window and a functional Dutch door; inside it has a sink and stove area - my youngest son LOVED playing with something very similar to this in our local pocket park, the amount of stick sandwiches I've 'eaten' over the years...
Here are the dimensions of the Little Tikes Cosy Cottage, just in case they're an important consideration for you: 112 L x 104 W x 117 H
The published price on the Bargain Crazy website is £74.99 - to drop the price to £59.99 simply enter W20TWITTER into the coupon code box in your basket before you checkout.
Delivery is free too; hurrah!
Thanks to jemmahowells at HUKD