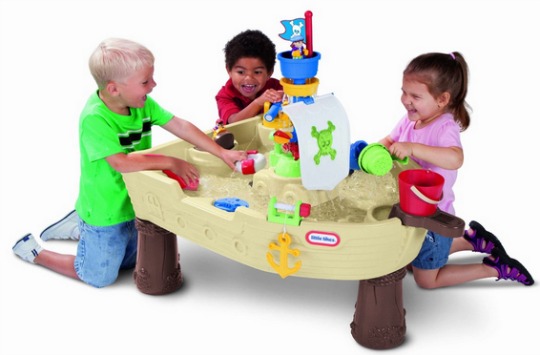 It's another whopper of a pressie, a huge amount of pirate ship fun for less than £40. The Little Tikes Anchors Away Pirate Ship has an RRP of £79.99, and is currently selling at around that price in most retailers. Very were the cheapest by a long way at £50, until Amazon dropped their price to an amazing £39.99 with FREE Delivery.
Apparently these huge toys can sell second hand for around £50, so Amazon are giving you a real bargain here, and with a re-sale value near your purchase price what have you got to lose?
The Little Tikes Anchors Away Pirate Ship is a pirate themed play set designed to be used with water or sand, so it is largely an outdoor toy (or one to be used in an area that you don't mind having to clean up afterwards). It's got loads of spinning bits that make the water flow in a current so that the little floating toys bob around in the current. To keep the water moving there's a pump or you can pour water in to the crows nest to make everything spin.
Two toy pirates live on board the ship, and they can squirt water at the pesky shark that floats around - though it can also squirt water back at them! Sounds fun doesn't it? "Can you talk like a pirate? Avast, Ahoy, Aye Aye!" I think I see way too much Disney Junior...
With a big "Cheers me hearty!" to quidstretchy @ HUKD.