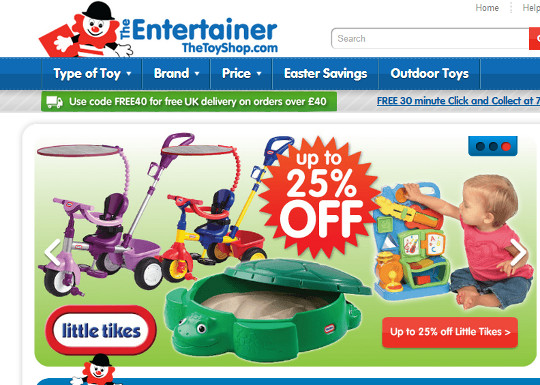 The Toy Shop seems to be doing some huge toy clearing, obviously getting into the spring cleaning spirit. The latest addition to their sales is 25% of Little Tikes toys, many of which are, rather conveniently, outdoor toys, so if decking out the garden as a kids paradise is on your to do list for the coming spring and summer months, don't miss out on this sale.
Little Tikes outdoor play houses are great and always seem to attract a lot of attention, and the best one I think according to this sale, is the
Little Tikes Picnic on the Patio Playhouse with 15% off, coming in at £195.49. It's a fair whack of money, of course, but it should last and last.  If you want to go a little smaller, or cheaper, there's the Little Tikes Sea Turtle Sandpit for £33.99 also with 15% off. 
The 25% off seems to apply more to the smaller toys, like the Little Tikes Discover Sounds Workshop which is down to £18.74, and the range of Little Handle Haulers which are all really sweet too.