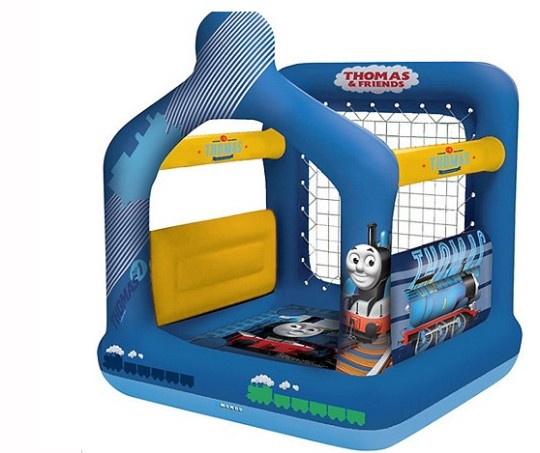 If you're loving the sunshine and good weather, this Thomas the Tank Inflatable Bouncing Castle from Debenhams could be just the ticket for getting the kids outdoors. It's reduced from £60 to £48, which I believe makes it the cheapest bouncy castle we've had around here so far this summer.  Then add the code FV39 from our voucher page, and it drops it even further down to £43.20 with free delivery, though it may take up to two weeks to be delivered.  Around the web these can be found for upwards of £75.
The Thomas the Tank Inflatable Bouncing Castle isn't massive, which makes it ideal for most of us. I had a look at it on other sites, and the reviews of it are great. People say that it's easy to inflate and deflate, and that they use it outdoors or indoors, depending on what the weather is like.
One person was concerned about it's quality but they had nothing but rave reviews on it and their son used it every day, so that's promising.
The bouncy castle is approximately: 153cms x 153cms x 165cms which means it's a nice size for little ones, but not so big there's not going to be room anywhere for it.