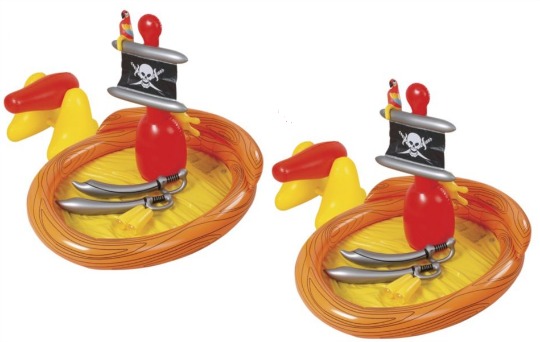 There are a million and one different paddling pools on the market but most are basic and lack that special fun factor. This Tesco Pirate Ship Paddling Pool looks awesome and is part of Tesco's Outdoor Toys Event. You can find more items in that here. This fancy paddling pool is reduced from £25 to £12.50. Think of the fun that could be had with this water toy. If the sun comes out that is.
The Tesco Pirate Ship Paddling Pool has a movable water spray cannon, I am sold solely on that basis. There are also pirate shields, swords and binoculars included.
As well as a garden water toy, this is a great role play toy. It'll have the kids playing "Pirates" all day long or until they are freezing.
It has a 4.2 star rating which is really good for a paddling pool. At this price, I fail to see how you could go wrong.
You can Click and Collect the Tesco Pirate Ship Paddling Pool for FREE from a Tesco store near you or pay £3 to have it delivered to your door.