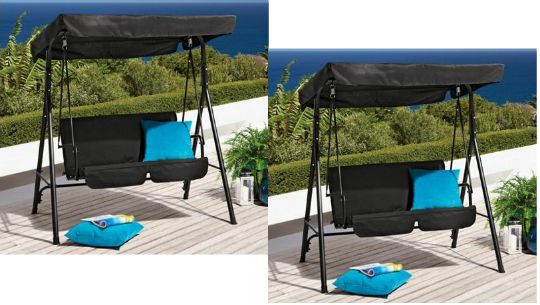 Get a Swing Seat and watch the kids in style, as they run riot through the garden. I have been moaning at my husband to get me one for ages. I will be waiting no longer as eBay Seller: savechannel are selling the Black Swing Seat for just £45.99. That is a great price considering Argos are selling one that is very similar (if not the same) for £59.99. Plus that great price includes delivery!
The kids will obviously want to have a go on your Swing Seat but the novelty will wear off and you will get to 'relax' on your throne.
The Black Swing Seat can seat up to two people, perfect for a snuggle with your other half. It should be comfortable as the seat itself is fully padded as is the backrest.
The frame is made from steel and is powder coated so it can last even in the worst weather. Should it be windy, you can lock the canopy into position. The base is wide enough to prevent any tipping.
You will need to assemble this yourself but I say get a friend to help as I think you will need it. All the nuts and bolts come with it so as soon as it arrives, you can crack on and get it up.