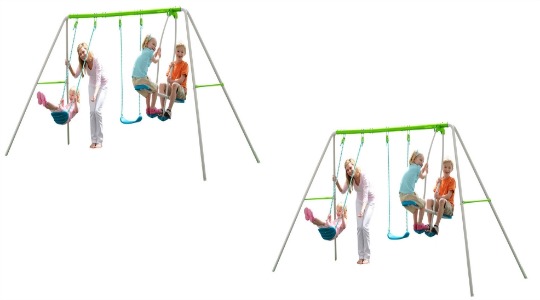 Looking for a swing set? This Four Way Swing Centre can be had for only £49.99 from good old Toys R Us. This swing set is ideal if you have more than one child as it can accommodate up to four children. Don't worry if you just have the one as they will soon have half the neighbourhood over to play on it.
The Four Way Swing Centre features two swings and a glider swing. The glider swing is a bit like a suspended see saw if you ask me. It can be secured to the ground with the ground anchors supplied. Trust me, you need these with the wind you get and for when all four kids are playing on it. The last thing you want is tipping.
The metal frame is specially coated to ensure it's as weatherproof as possible. As it stays outside constantly it needs to be as resistant to rust as can be.
You can Click and Collect the Four Way Swing Centre for FREE from a Toys R Us store or have it delivered for FREE. Toys R Us offer FREE delivery on all orders over £29.99.