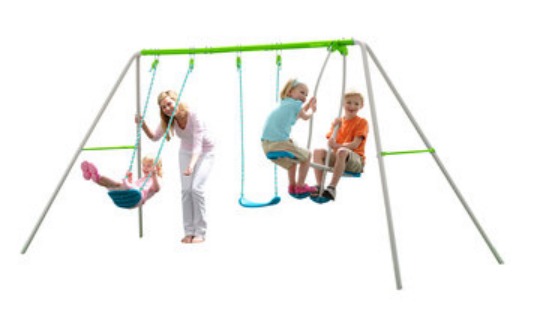 Another little gem from Toys R Us today, with the Aquagreen Four Way Swing Centre. Usually it's £59.99, currently has £10 off taking it to £49.99 and use that £5 promo code over in vouchers – 9908084629999 - and it's £44.99 delivered to your door.
While some people are looking for wooden swing sets and playhouses, those can come with hefty price tags -you're never going to see one for under £45 for example (and if you do please tell us straight away!)- and for whatever reason some people just don't want to spend a fortune on toys for outdoors.
Families can easily spend more than £45 on a day out and that's what made this set catch my eye. Kids don't really care what something is made of or how much it costs, they just see the potential for FUN.
This set comes with two swings, a glider and also comes with ground anchors for extra stability and support. It measures 254 x 210 x 200 cm.
Don't forget to add that promo code after logging in to get it for under £45 and you can find that code over in our voucher section.
So what do you think? Worth considering at under £45?