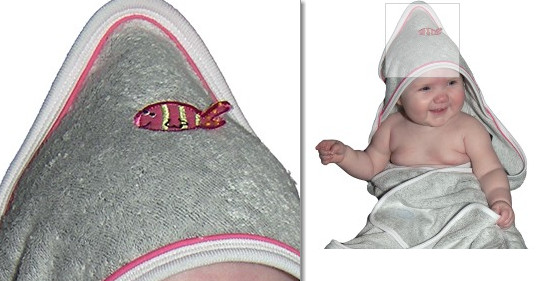 Splash About have sent us a couple of items to review in case you're tempted to buy swimwear for enjoying the last few weeks ofsummer. I actually reviewed the Splash About Happy Nappy a few months ago, so I'll recap that for you momentarily, and also tell you about the cotton bamboo charcoal towelling. (Sounds interesting doesn't it?!)
The Splash About Happy Nappy is a swimming nappy, for use over a conventional nappy or on its own. It is made from stretchy neoprene and thick fabric bands to prevent leakages. These are made from Nylon and Elastane.
These swim nappies really put up with 'abuse' quite well. I found it quite hard to put on my daughter, and really had to tug at it and it didn't tear or split or anything, which definitely works in its favour. The sizes are quite small too – they're for 0-4 months, 3 – 8 months, 6 -12 months and 12 – 24 months and 'toddler', so there's a good bit of overlap in the sizes.
The Happy Nappy can be used on its own, which would probably extend the life you'll get out of it, or it can be used with a reusable or disposable nappy – but then you're really looking at going a size or two up.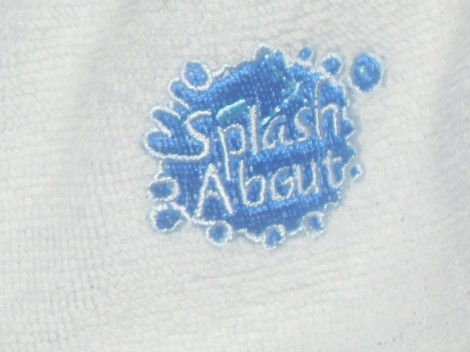 As for containment, the Happy Nappy does a spectacular job. Urine will always pass through any kind of nappy eventually anyway, but solids won't and we've never had a leak from a Happy Nappy – in fact I know a few of the swim schools locally will only allow babies that wear this specific brand of nappy, which is quite an endorsement, really.
The nappy is easier to take off than it is to put on – it kind of rolls off, really, like a normal wet swimming costume would. If it does have … contents… however, you'll want a nappy to catch it so you're not rolling it all down the leg! Yummy.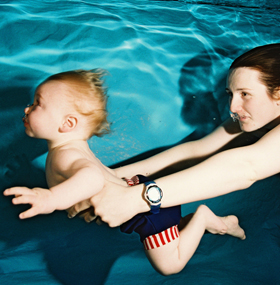 The Happy Nappy dries really quickly and doesn't need any wringing out or anything, really. It's not going to wet everything in the bag either.
The other item we received was the Black Gold Apres Splash Towel, a swimming towel worth looking at.
In contrast to your average baby or bath towels,  the Apres Splash Towel is larger in size, so it can be used for a longer time. It is super soft and has such a gorgeous soft smell too. I sat and sniffed at it for ages before the first use. It's lovely.
It has either a blue or pink trim, and a Splash About logo on the bottom, and a cute fish design with a loose 'flapping' tail on the hood. It's very cute.
The towel is made from a soft and thick cotton bamboo and charcoal. It is naturally anti-bacterial, anti-mildew and it really is super absorbent. It draws the water away from the body leaving your toddler drier than some other towels.
The Splash Towel comes in a reusable bag with two poppers to shut the bag and a large Splash About logo on it, so ideal for storage.
So what's the deal with the charcoal?
Well, apparently it stops the spread of bacterial and fungal infections from the wet towel.  So… that must be good.
The hooded towel also has an SPF of 50+, so if your little one is out and about in the water, or more accurately out of the water, they have a little sun protection while drying off.
The Good
Splash About is a really highly regarded range in the swimming community, and it's easy to see why.
The quality is great, durability is good and your child's going to outgrow things before they reach the end of their life – i.e. they're long lasting.
They do what they're intended to do. The swim nappy contains what it needs to contain, and it dries quickly too.
The bands are tight without cutting off blood flow – a definite bonus
The towel is gorgeous, soft, and luxurious.
It also is larger than most baby towels, so it'll last longer
It comes with its own bag for storage or transport
It is antibacterial and anti-fungal
The prices are good value for money
The Bad
The nappies don't have a long life, size wise. In the first two years you're going to have to replace their size a good 3 – 5 times depending on your child.
I can't think of anything bad about the towel. Except maybe they could do them in adult sizes too.
The Verdict
If you're in the market for a swim nappy and a swim towel, these are highly recommended. For the occasional swimmer, it may be too much of an investment, but if you're in the water regularly or going away for a week or two, they're not overly costly, and are lovely.