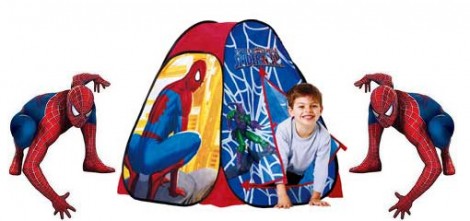 Argos are selling this Spiderman Play Tent for half the retail price, £7.49 instead of £14.99
I remember watching the Spiderman cartoons as a kid, I wasn't overly fussed with him then but when the first movie, with Toby Maguire, was released I changed my mind; that Spider suit did wonders for the imagination!
Playing in tents also seems to fire up kids imaginations, there's just something about climbing inside a tent and pretending 'stuff'.
You could be camping on the side of Mount Everest, in the deepest darkest most dangerous jungle or hiding from the bad guys in your Spiderman tent, all from the comfort and safety of your house or garden.
It's suitable for young superheroes aged three years and older and the dimensions are: Size (H)76.2, (W)76.2, (D)91cm.
From looking at the pictures, and reading the reviews, it seems it just pops up and folds away when it's not being used. The other thing I discovered from reading through the things other people have said about it, is there's no groundsheet - some people seemed a little disappointed by this.
In my experience kids don't care about such trivial matters; they'll be too busy conjuring up amazing games and role-play scenarios in their Spiderman play tent to worry about a groundsheet, or lack thereof!
Thanks to dobson64 at HUKD