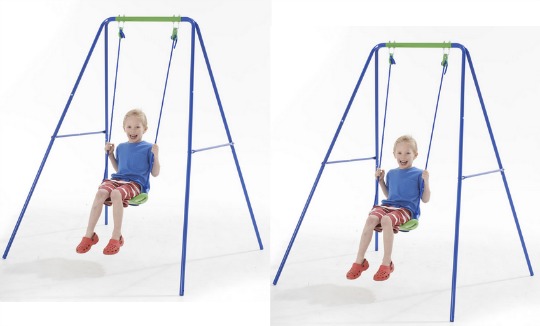 Swings are fun and whilst you get some big fancy play sets for outside, we still go back to the simple stuff. If you have limited space in your garden or you don't want to shell out £100+ for some huge thing, then why not have a look at the Single Outdoor Swing from Wilko. It's just £20, so it's very affordable. They offer FREE collection from store too so you don't even have to fork out for delivery, if you don't want to.
The Single Outdoor Swing could not be any more basic but kids will love it just as much as anything fancier. The frame is made from steel to ensure durability. It's coated in a special paint to make sure it doesn't rust in the hideous weather we get in this country. It shouldn't take off in the wind either as it has ground anchors.
The plastic swing seat is shaped for the comfort of little bums and is suitable for children aged three years old and above. the maximum weight it can take is 45kg, so bear that in mind.
It requires assembly but it doesn't look like it would be too complicated. Delivery costs just £3.50 if you don't want to collect it from a Wilko store.